That's not a line from a Martin Scorsese film - but I'll bet he wishes it was! It is a line delivered by Jimmy Cagney way back in 1931 when he managed to snag a role in The Public Enemy. Interestingly, Cagney did not originally get the role he played - instead he was cast as Matt Doyle. Luckily, at the last minute, the two actors switched Edward Woods playing Matt Doyle whilst James Cagney played Tom "I-ain't-so-tough" Powers.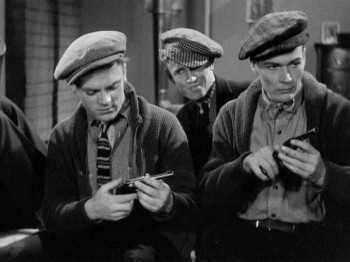 One thing that we can never forget about Scorsese is his influences. One Gangster film which was a

huge influence on him was William A. Wellman's The Public Enemy starring James Cagney. It was the film that broke out Cagney whilst additionally showing a true example of the rise and fall of the Gangster.
As a sample of how The Public Enemy influenced him, I wrote:
"THE PUBLIC ENEMY itself had a huge influence on filmmakers - specifically Martin Scorsese, who often says in interviews how he attended double-bills that showed THE PUBLIC ENEMY and SCARFACE when he was a child and it was part of many factors that made him the one of the greatest directors of all time, and in the first few minutes you can see the influence this has had on him."
If you want to read more, you can find it by clicking here